Vi har heste til salg, på flere forskellige uddannelses niveauer og dermed også heste i forskellige prisklasser. Hos os kan du prøve hesten, på ovalbane, i ridehus eller en tur i skoven. Vi lægger vægt på, at hjælpe dig med at finde den rette hest, til dit behov.
Du er meget velkommen til, at ringe til Dennis og forhøre dig, om vi har den hest du søger.
Dennis Hedebo Johansen: 22826338       mail: dennishedjo@yahoo.dk
Vi  har salgs heste i følgende prisklasser:
A: 0-50.000
B: 50.000-100.000
C: 100.000-150.000
D: 150.000-200.000
E: 200.000 og op efter.
Flygill fra Hjarðarholti IS2008136486
Flygill is an 11 year old gelding with a lot of natural movements in all gaits.
He has been competing with a danish rider for the last couple of seasons, his best result so far is 6.47 in T2.
His father is Pytur fra Skaney, a 1.pr. son of Gustur fra Holi with 9 for tölt and canter.
His mother, a Kolfinnur-daughter, is evaluated with 8.15 for ridden abilities, and has one 1.pr. offspring.
With the right training Flygill could be used for both 4- and 5gait, T1 or T2.
He is easy in all handling but needs a medium+ experienced rider to develop his talent even further.
If you think that Flygill could be your new companion, you are welcome to come and visit him
Pricecategory: C
Darri fra Dísarstöðum 2 IS2007182663
Darri is a 1.pr. 4gaited stallion who has been doing extremely well in sport for the last couple of seasons. He has scored around 7 in 4gait several times, and in 2016 and 2017 he won the bronze medal in the same discipline at the Danish Championships.
He has a very nice breeding evaluation, with a totalscore of 8.08, with 9 for galop, form, canter and hoofs.
He is after the living legend Alfur fra Selfoss, who has proven himself as both a sports- and breedinghorse with extremely good genes.
Darris mother is a 1.pr. 4gaited mare with 9 for tölt after Keilir fra Miðsitju. She is also the mother of 3 other 1.pr. offsprings.
He has a very nice character, easy in all handling and can be ridden by most medium-experienced riders.
Darri would be the perfect match for an ambitious junior/young/senior who is looking for an experienced competitionhorse, or for someone who is looking for a great ridinghorse with very interesting genes.
Price category: E
Feel free to contact us for further information.
Sindri fra Helgatuni IS2009101511
Sindri is a big (148cm) beautiful 4gaited gelding.
Last year was his very first competitionseason and he more than fullfilled my expectations to him. He scored 6.97 in V1 and 7.33 in T2, won the bronze medal at the danish Championships and competed at the Nordic Championships where he was in the B-finals.
His father is Auður fra Lundum 2, a great 4gaited stallion evaluated with 8.46, 9 for tölt, trot and gallop, 9.5 for form, spirit, slow tölt and canter. He is also the father of great competitionhorses like Julia fra Hamarsey and Vörður fra Sturlureykjum 2.
I expect him to improve a lot this year, so if you are searching for a horse that can compete at the very top, and maybe even qualify for the WC, you should take a look at Sindri.
He has medium willingness and is a nice and polite horse, so he can also be ridden by a junior/youngrider.
Video (from around 2 years ago):
https://youtu.be/6Y-vVFIjGWA
Price category: High.
By serious interest, feel free to contact me for further information.
Isak fra Hindbjerghus DK2008108371
Isak is an 11 year old danish born gelding with very good gaits, and he is after Alfasteinn fra Selfoss
He is 5gaited with very long strides in all gaits, especially the walk is spectacular. He is around 144cm.
His father Alfasteinn has sired numerous great offsprings like Spuni fra Vesturkoti (8.92) and Hafsteinn fra Vakurstöðum (8.70)
His mother is a 1.pr mare after Goði fra Prestbakka.
Isak would make an excellent competitionhorse but because of his nice character he could also be interesting for someone who is looking for a luxurious horse for trailriding.
Price category: C.
Feel free to contact us for further information.
Farfaxi fra Skelgården DK2010100292
Farfaxi is black with a very beautiful confirmation, especially his neck and form under rider make him stand out.
He is 9 years old and around 138cm.
His father is Magni fra Árgerði, a 1.pr. stallion with 8.5 for tölt, pace, gallop, willingness, form and walk.
His mother is a 2.pr. mare with 8 for tölt after Kraflar fra Miðsitju.
His tölt is clearbeated and with nice speed.
Farfaxi has a big talent for pace, it is very effortless for him, the transition is easy, he manages it in a high tempo and he is easy to slow down again. All of which makes him the obvious choice for pacetest and 100m pace.
With a little further training and development of his basic gaits he could also do well in 5gait.
He is easy in all handling, but quite willing.
In our opinion he could be very interesting for an ambitious youngrider who wants a 5gaiter/pacehorse for competitions at a high level, or maybe for someone who wants to develop their skills as a pacerider, you could learn a lot from a horse like him.
Pricecategory: B
Feel free to contact us for further information.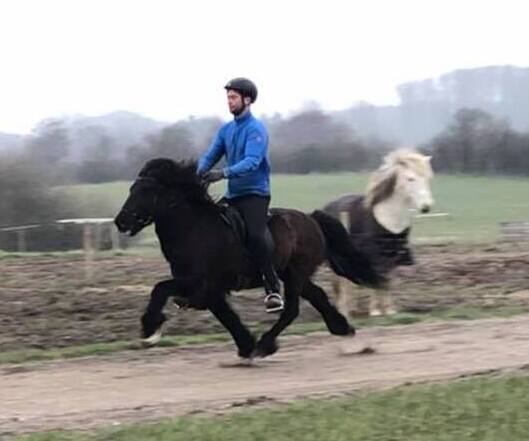 Þórdís von Heyden DE2013222730
Þórdís is 6 years old and after the very popular stallion Depill fra Votmúla 1, he has a totalscore of 8,57, with 9 for trot, spirit, and 9.5 for pace. Depill is also the father of a number of top sport- and breedinghorses, and several WC-participants. Her mothers father is Ögri fra Hvolsvelli, a 4gaited 1.pr. stallion with 9 for tölt, trot and slow tölt.
Þórdís has very good and separated gaits, tölt is clearbeated, trot is very big and the walk is always releaxed and with extremely big steps.
Þórdís is not the biggest horse, she is around 135cm, but what she lacks in size she makes up for in personality and confidence
She is easy to ride both alone and with others.
Pricecategory: C
For further information feel free to contact us.
Súsanna fra Sandagervej DK2010200547 
Danskavlet hoppe med stævneerfaring sælges.
Súsanna er 9 år, hun er 5 gænger, og har været kvalificeret til DM i 5.1 og T2.
Især tølt og skridt er med god skridtlængde, og hun vil kunne rides i både 4- og 5gang.
Karítas fra Sandagervej DK2012200290
Karítas er en 6 års danskavlet 5 gænger hoppe med et virkelig godt sind og behagelig arbejdsvilje. Hun er 138 cm.
Hun har udelukkende været redet og trænet hos os, så vi vil vove at påstå at hun er velredet og let på tøjlen
Hun er efter Sjoli fra Dalbæ, kåret med 8.66 totalt, og Verdensmester i avl. Han er desuden far til mange topheste, bl.a. Reyr fra Dalbæ, Nordisk Mester i 4 gang, og Pjakkur fra Vesterlyng, kåret med 8.55 6 år gammel.
Karítas' mor er kåret med 7.92, og mormor er desuden også mor til Gerpla fra Blesastöðum, kåret med 8.42 total.
Hendes gangarter er nemt adskilte, og især hendes skridt og trav er med stor rummelighed.
Hun er nem i al omgang, og sød at ride ud både alene og i flok.
Karítas vil være perfekt som kombineret luksusskovturs- og konkurrencehest, og kan pga. sit gode sind og middel vilje rides af de fleste ryttere med medium erfaring.
Priskategori: A-B.
 Porgnyr fra Pufu IS2007184555
Beautiful 1. prize stallion with lots of hair for sale.
Porgnyr is 11 years old and 5gaited. He was evaluated when he was 5 years old with a total score of 8.18, with 8.5 for head, neck, proportions, hoofs, tölt and form, and finally he got 9.0 for mane and tail, you can probably see why on the pictures

He is 143cm tall
His father is the impressive stallion Porsti fra Gardi who is judged with 9 for tölt, form and slow tölt
His mother is a 1. prize mare from Pufu.
He is very easy in all handling, and you don't really notice that he is a stallion.
This season he has been competing in V2 and T3 with up to 6.10, but he would be great in 5gait, since the pace is very safe and easy, and with a little further training he could also do well in T2.
Because of his great character, good gaits and interesting bloodlines (his blup is 115) he fits many types of riders:
– A junior/young rider who is looking for a new best friend to compete with
– Breeders who want to breed horses with good tölt that most people can ride.
– Or simply just a rider who wants to enjoy endless tölt on a horse that is also great to look at in the stable
Feel free to contact me for further information.
Pricecategory: C